SMK Spray Booth: SB-F8
Made in Singapore, the SMK Spray Booth is ideal for the craft producer where continuous, heavy use is not required. It is an excellent machine for school use and for the studio potter.
The booth is supplied with a replaceable aluminum foil filter that can be easily removed and washed. The cabinet is fabricated from galvanized sheet steel and is large enough to accommodate most sizes of pots. The booth has a 8" electric extractor that provides efficiency with low operational cost and runs of a normal domestic electricity supply. It is essential to vent the booth to the atmosphere, it is possible to fit exhaust tubing to the rear of the unit where required.
You can use the booth on any convenient surface. If necessary, we are able to provide a fabricated steel, stand especially designed for this use.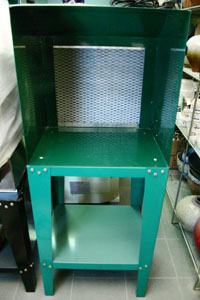 Spray Booth: SMK SB-F8
Specifications:
Booth dimension: W60cm x D46cm x H60cm
Fan motor: 0.18kW, 2300rpm, 8" in diameter
Stand dimension: W60cm x D51cm x H91cm
For more information regarding the product and/or the price, feel free to contact us or email us.