NABERTHERM KILNS
---
The top kiln manufacturer, Nabertherm, provides a variety of kilns for firing ceramics. Nabertherm kilns can reach a maximum temperature of 1340 °C, which covers the entire spectrum of ceramic firing operations. Nabertherm Controllers use digital technology to control the firing process. Not to mention how simple it is to operate a Nabertherm kiln.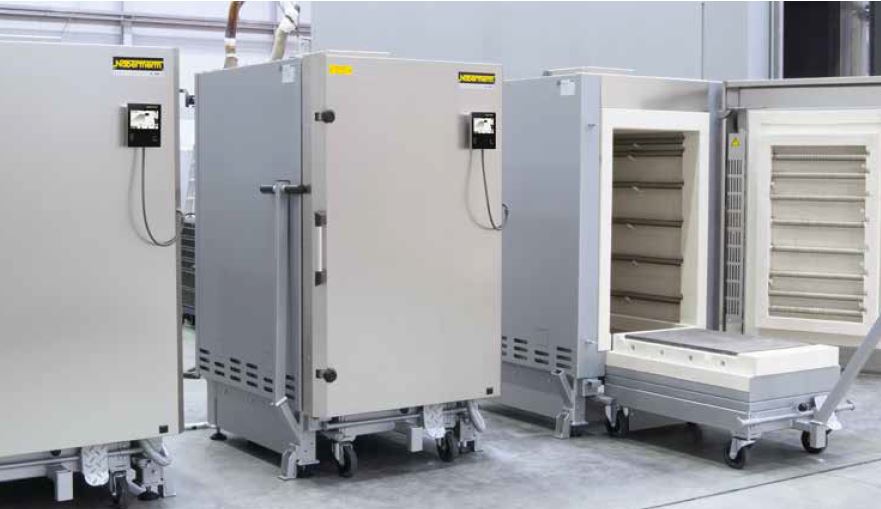 Front Loader Kilns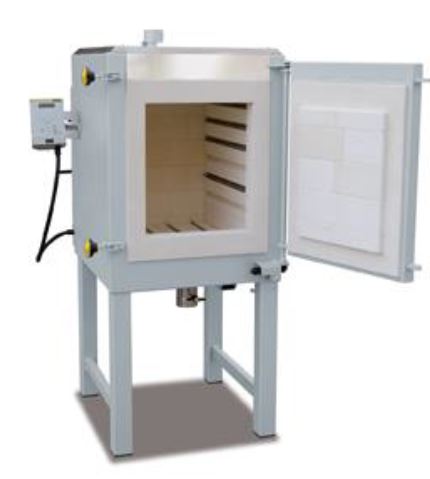 Nabertherm N210E Front Loader Kiln with controller B400
Electrically heated chamber kiln with GS safety mark
Technical specification for N 210E
| | |
| --- | --- |
| Inner dimensions: | 500 x 580 x 700 mm (wxdxh) |
| Outer dimensions: | 710 x 1050 x 1560 mm (WxDxH) |
| Weight: | 270 kg |
| Power rating: | 11,0 kW |
| Supply voltage: | 415 V |
| Max. operating temperature: | 1300°C |
| Volume: | 210 liter |
| Charging height: | 800 mm |
| Kiln width for transport: | 710 mm |
Heating from three sides (left/right side and bottom)
Heating elements embedded in grooves for protection
Special arrangement of heating elements ensures good temperature distribution
Low-noise operation of the heating with SolidStateRelais
Precise temperature distribution thanks to the fast clocking of switching operations
Solid, double-walled door with brick surface on both ends sealing (no fibre sealing is used, since it is susceptible to wear and tear)
Door hinges on the right side
Door is adjustable and can be locked with padlock
Rugged housing design
High-quality Pt-RhPt thermocouple for exact temperature measurements
Door contact switch with force-release mechanism
Delivery includes ceramic shelve for level mounting
Environment-friendly, long-life powder-coating of housing
Infinitely adjustable bottom damper
Air outlet in the centre of ceiling ensures good circulation inside the furnace chamber
Base included
Delivery includes pipe connection for connecting an air outlet (80 mm diameter)
GS safety mark for controlled safety, CE
Controller B400
Integrated in the door of the furnace for a convenient operation
Easy and individual programming
Clear, high-contrast, blue-white LC-Display
Status signal with text indicator
5 programs can be stored with 4 segments for each program.
Adjustable start time of the furnace (e.g. for using night-time current)
Adjustable holding temperature and dwell time
Delayed cooling down adjustable
2 Bisque- and 3 glaze-firing-programs are pre-set as example programs, free changeable
Input of the programs in increments of 1°C and/or 1min.
Detailed information menu with:

Integrated operating hours counter
Integrated kilowatt-hour counter
Object time
Saving of max. program temperature
Saving of error messages
Display of the heating power

Data interface RS 422 for connecting to a computer (as option)
Automatic optimization
Low maintenance
Detailed instruction manual for kiln and controller
Environmental conditions for electrical equipment: temperature +5°C up to +40°C.
Humidity < 80%, not precipitating.
Set kiln furniture for N 210E
Consisting of:
5 shelves with the dimension of 550 x 410 x 18 mm
12 cones with a length of 50 mm
9 cones with a length of 100 mm
Intended Use:
The offered kiln is designed for firing of clay and glazes, glass or china painting. It is necessary to follow the producers firing instructions for each material.
This furnace does not provide for a safety system for processes generating explosive gas mixtures, e.g. debinding processes. If used for these kinds of processes the concentration of organic gases in the furnace must never exceed 3% of the lower explosion level. This precondition is not only valid for normal operation but in particular for exceptional circumstances, e.g. process failures (caused by a module breakdown, etc.).
Nabertherm offers a wide range of furnaces which are specially designed for processes generating explosive gas mixtures. We would be pleased to offer you a suitable furnace for your application.
For more detailed information of Nabertherm kilns, kindly download the following PDF documents: