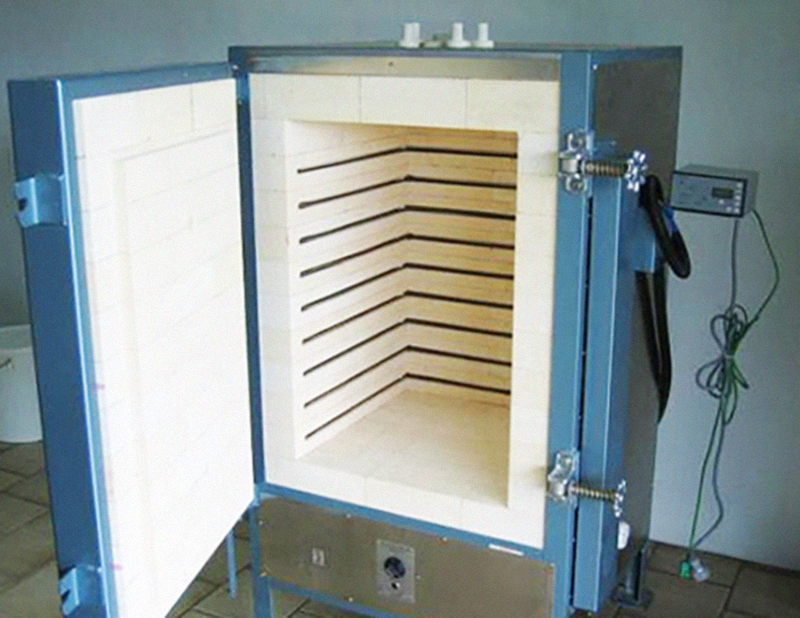 TETLOW KILNS
---
Product of Australia, Tetlow Kilns & Furnaces Pty Ltd has been manufacturing quality kilns for over 50 years. We are honoured to be the sole distributor in the region to supply these quality kilns.
If you're looking for alternatives, we also supply Potterycrafts, Kilncare and Nabertherm kilns.
All kilns supplied are Ceramic Fibre Free.
All models of Tetlow kilns are fitted with ST316A Programme Controller kiln furniture, stainless steel casing and stand etc.
All parts are under 12 months warranty except for kiln elements.
Order confirmation is required for kiln orders.
Delivery period within 10 to 12 weeks for K1 to K6A models.
For more information regarding the products and/or the prices, feel free to contact us or email us.
Prices are not including GST and valid for 60 days only.
| | | | | | | | | |
| --- | --- | --- | --- | --- | --- | --- | --- | --- |
| Model | Vol Cu.Ft | Size Int.(")WxDxH | Volts | Phase | Amps | KW | Max. Temp | Weight (Kgs) |
| K1 | 0.2 | 8 x 4.5 x 9 | 230 | 1 | 7.5 | 1.8 | 1300C | 30 |
| K2 | 0.4 | 9 x 9 x 9 | 230 | 1 | 10 | 2.4 | 1300C | 40 |
| K3 | 0.5 | 13 x 13 x 4.5 | 230 | 1 | 10 | 2.4 | 1300C | 50 |
| K4 | 0.9 | 13 x 13 x 9 | 230 | 1 | 15 | 3.6 | 1300C | 50 |
| K4A | 1.4 | 13 x 13 x 13 | 230 | 1 | 15 | 3.6 | 1300C | 56 |
| K4B | 1.74 | 13 x 13 x 18 | 230 | 1 | 20 | 4.8 | 1300C | 80 |
| K6 | 2.3 | 15 x 15 x 18 | 230 | 1 | 26 | 6.2 | 1300C | 92 |
| K6GL | 2.3 | 18 x 18 x 12 | 230 | 1 | 26 | 6.2 | 1300C | 92 |
| K6A | 3.2 | 15 x 15 x 24 | 230 | 1 | 30 | 7.2 | 1300C | 126 |
| K7 | 3.4 | 18 x 18 x 18 | 230 | 3 | 10 x 3 | 2.4 x 3 | 1300C | 200 |
| K8B | 5.06 | 18 x 18 x 27 | 230 | 3 | 15 x 3 | 3.5 x 3 | 1300C | 220 |
| K8C | 5.6 | 18 x 18 x 30 | 230 | 3 | 20 x 3 | 4.8 x 3 | 1300C | 250 |
| K9 | 6.8 | 18 x 18 x 36 | 230 | 3 | 20 x 3 | 4.8 x 3 | 1300C | 375 |
| K9A | 6.25 | 20 x 20 x 27 | 230 | 3 | 20 x 3 | 4.8 x 3 | 1300C | 220 |
| K9B | 7.0 | 22 x 22 x 25 | 230 | 3 | 22 x 3 | 5.3 x 3 | 1300C | 220 |
| K9C | 7.0 | 20 x 20 x 30 | 230 | 3 | 22 x 3 | 5.3 x 3 | 1300C | 280 |
| K10 | 8.0 | 24 x 24 x 24 | 230 | 3 | 23 x 3 | 5.5 x 3 | 1300C | 375 |
| K11 | 9.0 | 18 x 24 x 36 | 230 | 3 | 25 x 3 | 6.0 x 3 | 1300C | 375 |
| K11A | 10.0 | 24 x 24 x 30 | 230 | 3 | 25 x 3 | 6.0 x 3 | 1300C | 450 |
| K12 | 12.0 | 24 x 24 x 36 | 230 | 3 | 28 x 3 | 6.6 x 3 | 1300C | 475 |